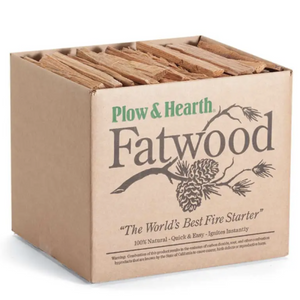 This is the stuff your Dad uses...
Fatwood is nature's best kindling! Loaded with organic resins that ignite instantly, our Fatwood Fire-Starter burns with intense heat and gets fires going quickly! Just two 8"L sticks and a single match is all it takes.

See why fatwood has 2740 ⭐️⭐️⭐️⭐️⭐️ on the manufacturer's website. You can see more specs below but all you really need to know is that this stuff works!
Additional Product Specs
Every 8"L stick of our resin-rich Fatwood is hand-selected and harvested from naturally felled trees (storms, lightning, old age). Our Fatwood is not the by-product of commercial logging or clear-cutting. Not a single live tree is used. Plow & Hearth Fatwood is an all-natural, environmentally friendly fire starter.

Fatwood fire-starting sticks have an indefinite shelf life – Fatwood even ignites when wet! Ideal for wood stoves, fireplaces, campfires, chimeneas, fire pits, and more. Makes a great gift any time of year. Don't run out – buy in bulk and save, too!